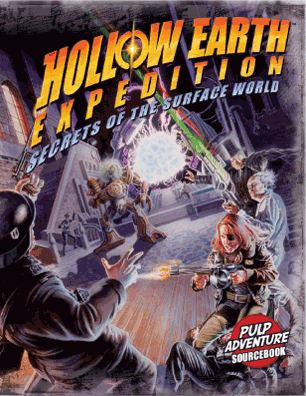 Secrets of the Surface World™

SILVER ENNIE AWARD WINNER FOR BEST SUPPLEMENT!


This sourcebook expands Hollow Earth Expedition to include the mysterious and perilous surface world, filled with dangerous criminals, mad scientists, and dark sorcerers! Become a daredevil pilot, private detective, or wandering hero, exploring exotic locales and thwarting evil plots. Meanwhile, world powers and secret societies vie for control of what may be the most important discovery in all of human history: the Hollow Earth!
Inside you will find everything you need to run thrilling surface world adventures or add more spice to your existing Hollow Earth games: new rules for psychic powers, sorcery, and weird science; an expanded vehicle and equipment catalog; and additional details on secret societies and surface world locations.





Item Code: EGS1003
Release Date: January 2008
Format: Hardcover and PDF
MSRP: $29.99 (Hardcover) and $14.99 (PDF)

Take a peek inside:

Introduction (1.6 MB)

Sample Characters:

Sample Characters (1.4 MB)

Check out the downloads page for even more Hollow Earth Expedition resources, including a character sheet, wallpapers, and adventures.