Hollow Earth Expedition Gamemaster Screen™

2008 ORIGINS AWARD NOMINEE FOR GAME SUPPORT

2008 ENNIE NOMINEE FOR BEST ACCESSORY!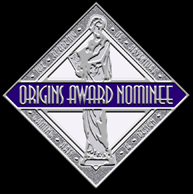 This 4-panel, hardback sceen allows gamemasters to hide their notes, maps, and dice rolls from players. It contains the most useful charts and tables from the Hollow Earth Expedition core rulebook so that gamemasters will always have the information they need right at their fingertips.

The Gamemaster Screen also includes a 16-page booklet jam-packed with new information! Inside you will find a new sample adventure, detailed continuous combat rules, and expanded content from the core rulebook, including new Archetypes, Talents, and Flaws.
Item Code: EGS1001
Release Date: July 2007
Format: 4-panel hardback screen and 16-page booklet
MSRP: $19.99

Check out the downloads page for even more Hollow Earth Expedition resources, including a character sheet, wallpapers, and adventures.